Recently, SNY Valve delivered electrical slab gate valves to Hengli Petrochemical and successfully installed and tested in the pipeline of new crude oil tank farm project.
Since becoming a supplier of Hengli Group in 2018, SNY Valve has been approved and recognized by customers for its high-quality products and services, and continuously dedication with gate valve, globe valve, check valve, ball valve and other products.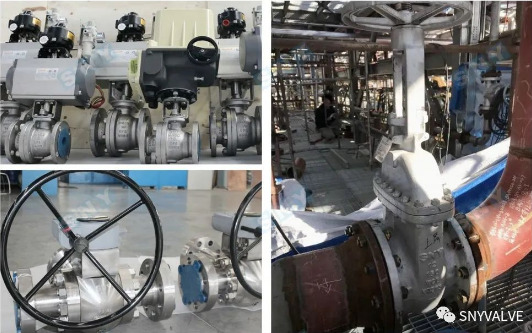 In April 2020, SNY Valve won the bidding again for the valves required for the new crude oil tank farm of the 20 MTPA refining and chemical integration project of Hengli Petrochemical (Dalian) Refining and Chemical Co., LTD.
The project is located in Dalian Changxing Island economic zone, as the first large-scale private refining project approved by the state, was listed by the National Development and Reform Commission as "promoting the revitalization of the old industrial base in the Northeast of the three-year process key project", is the largest one-stage completion, the most technology complicated, the highest degree of business integration, the most complete industrial supporting petroleum refining project. After the completion of the project, the crude oil processing capacity will be 20 million tons/year, and the nominal scale of the aromatics joint plant will be 4.5 million tons/year (based on p-xylene output).
The 48 unit electrical slab gate valves of this order are all of metal seated structure with following main technical characteristics:
Seat sealing surface is CrC (chromium carbide) spray welded , and gate sealing surface is WC(tungsten carbide) spray welded

Seat has the function of double plugging and double discharging, and realize the automatic relief of overpressure in the central cavity

Seat is designed with grease fitting, which can realize short-term sealing and reduce loss in case of fire

Valve body material is low sulfur/phosphorus content to control hardness through heat treatment to meet the requirements of sulfur resistance
In order to meet the requirements of customer order, SNY improved the quality awareness of employees, carefully arranged in advance, vigorously promote production work. From raw material procurement, machining and assembly, testing and logistics, make sure each step under control. The on-site staff endured hardship and took the initiative to work overtime, which provides a guarantee for the early delivery of the project products. After completing each process in an orderly manner, the branded electric actuator was installed to meet the requirements of fire and explosion prevention. All products passed the first-time test at the customer's site and delivered in time.
SNY Valve is dedicated to industrial valve design, research and development and manufacturing. Hengli Group is an international Fortune 500 enterprise developing the whole industry chain of oil refining, petrochemicals, polyester new materials and textiles. The successful completion of the project fully reflects the comprehensive strength and technological innovation ability of SNY valve, which provides strong support for the largest one-stage completion petroleum refining project and the construction of one of the seven national petrochemical industry bases.